I'm by no means a low-carb expert and I fall off the wagon as often as I'm on plan.  These are just a few things I've found helpful and they might be useful to anyone just starting out on low-carb or who might have failed in the past and want to give low-carb another go.
Feel free to offer up any tips of your own in the comments, I'm always after new ideas for keeping on track!
1/ Cleanse your pantry and fridge of naughty food BEFORE doing anything else.  It's psychological as much as it is practical, you've made a stand and once it's in the trash there's no going back.  We haven't had junk food regularly in our home for years so obvious things like biscuits, chips etc aren't normally a temptation.  This time around I came to the conclusion that I just HAD to chuck out all my sugar (I bake quite a lot so we're talking 4 or more types of sugar I had in big jars in the pantry).  I couldn't get control of my eating whilst there was the option of whipping up a batch of cupcakes or brownies when the sugar cravings hit.  Heck I'm the master of making a dessert in the microwave in 2 minutes (I grab a shallow bowl, melt a little butter, mix in some sugar, cocoa powder, flour, baking powder, vanilla, salt, throw in the microwave for 60 seconds and voila! I don't even have to measure out the ingredients just taste test and go).  Once I realised the cause of my latest string of slip ups I threw out ALL the sugar, every last packet and it felt surprisingly liberating.
Once all the bad stuff is out, THEN stock up on foods that fit in with your plan.  You wouldn't believe how many times I've messed this one up.  Buying the new food before getting rid of the old.  The problem with doing it that way around is that things are all fine and dandy whilst the new food is fresh and plentiful but half way through the week the new stuff loses it's novelty and I might get tempted to whip up some cupcakes to eat after that juicy steak.
2/ Avoid "finding a replacement" for your favourite carb-laden foods.  In my experience this mindset early on is a recipe for disaster regardless of which plan you're on (Atkins, Dukan, Paleo etc.).  Being strict with yourself in that first week when you are a cranky mess from the sugar withdrawals is an unpleasant means to an end (that first weeks weight loss will hopefully help give you the momentum to get through that 2nd week strong).  Concentrate on finding foods you enjoy that fall under your eating plan, stuff yourself with those things so you're full enough that even if there was a glazed donut on a plate in front of you, you'd be hard pressed fitting it in (granted I can always make room for one more piece of chocolate).
3/ Wait until you are legitimately bored before adding too many new foods.  I know that's a bit harsh but there's not that much variety in the foods you're allowed, really they're just variations on the same foods (new cheeses, different flavoured mayo (be sure tp check ingredients lists for sugar!!), new cuts of meat, different varieties of veggies (fresh or jar'ed)).  If you blow out all your options piling a plate high with extra's in the first week then you have nothing new to fall back on.  I won't get sick of a breakfast of poached eggs, a strip of bacon and some sliced cucumber for breakfast if I eat it 2 or 3 days in a row but after that it can start to get old.  Having a bit of brie on top of the eggs on that 4th day will make me smile.  Then the next day I can switch out the eggs for a turkey steak with the brie and keep things fresh.  If I had the melty cheese on the eggs from day 1 then I'd have to think of something else to jazz the meal up with on day 4, if that makes sense?
I'm not saying you should start with bland food you hate.  Eat something you enjoy but leave some options open for further down the track when you think you'll go mental over catching a whiff of egg on day 6.
4/ Find a weigh in routine that works for you.  During the first week on low-carb, daily weigh-ins are essential for me.  I know a LOT of the weight is water weight in those first few days, but you know what?  It still feels amazing and you'll probably still look better for it (I lose a lot of puffiness in my face and in weird places like my feet when I lose water weight) and yes it is temporary but hopefully the boost seeing a loss on the scales will help you keep going.  As the weeks go on the weight-loss becomes slower.  This week I realised I was getting frustrated and down-trodden because the scale was only budging by 0.1 and 0.2kg's each morning.  If however I had waited a full week before weighing the result would have seemed huge (over 1kg!).
To be honest I don't think weekly weigh in's are for me at the moment, I need to check up on myself more often.  I'm a crazy person and I convince myself I've gotten fatter overnight despite absolutely no evidence to support it!  A quick weigh in can put my mind at ease.  If weighing in every day is making you doubt yourself when you see no results one morning then skip it and weigh less often.  You will sometimes see a spike up in your weight in the first few weeks and if you're doing everything else right then my theory is that you're trading water weight for real weight and over the course of a few days the real weight will hopefully catch up.
5/  Be careful when drinking alcohol.  It's debatable whether or not a glass or two of wine is okay on low-carb so really whether or not you drink comes down to how your body reacts and whether or not you'd rather enjoy a glass or two on the weekend and lose weight a bit slower.  What I'd really like to warn you of is the rate at which you'll get sloshed on low-carb!  Firstly getting drunk seems to work differently when I'm not eating carbs.  I'm familiar with the warm creep of tipsiness when I'm drinking.  After many a time making a dork of myself whilst drinking over the years I've learnt when to take a break or slow down.  Without carbs, there's no creep there's just feeling completely fine and sober and then BOOM drunk as a skunk.  Go slowly and wait a little while to see how hard it hits you after the first few mouthfuls.
6/ Have a plan when the cravings hit.  For me I drink something (not of the boozy variety). I go for either a strong cup of tea, coffee or Diet Pepsi with lots of ice (takes longer to drink if it's really cold).  Water is a great option but it doesn't really do it for me when I'm dying for a piece of toast or a chocolate bar.  I used to be a huge fan of herbal teas but I've gone off them recently (I'm sure it'll come back around).  If the cravings are really bad or I just want something a bit special on the weekend then I have one of my favourite low-carb friendly treats that feel really decadent when I haven't had sugar in a long time.  I've listed them here in case anyone else wants to give them a go.
7/ Don't get back into the habit of having dessert.  Some of the treats I've listed below feel very much like dessert but I would recommend using them in moderation.  Don't fall into the trap of having to have something decadent once a day.  I've done this in the past and it's a slippery slope.  These treats start to wear thin and once you're in sweets after dinner mode (or at 11pm if you're me) you might be tempted to branch out into chocolate cake and apple crumble!
---
A few snacks that feel decadent after a week without sugar:
Iced Coffee –  To make my iced coffee I use a tall glass, a strong coffee (real coffee is awesome but instant is fine too), lots of ice, milk and whipped cream.  Here in the U.K Anchor's extra thick cream in the can is just cream, no sugar or sweeteners. Beware the light cream and regular Anchor whipped cream as they have added sugar.  I often just whip double (whipping) cream myself and use that.  The whipped cream in the can always feels that bit more special and you need less to get the same effect so go for that if you can get it.
To make the Iced Coffee: I fill the tall glass about half way (or a bit higher) with ice and then tip the coffee in.  I fill the glass almost to the top with milk and then add lots of yummy cream on top. A straw and a long-handled tea spoon is always a nice touch and then drink up (yum!).
Note: If you use sweetener in your regular coffee in the mornings then add sweetener to the coffee in your Iced Coffee too.  I like mine without sweetener unless I'm having a really bad day (i.e I want chocolate so bad I'd sell a kidney to get it) and then I splurge on a bit of splenda to ease the sugar-craving.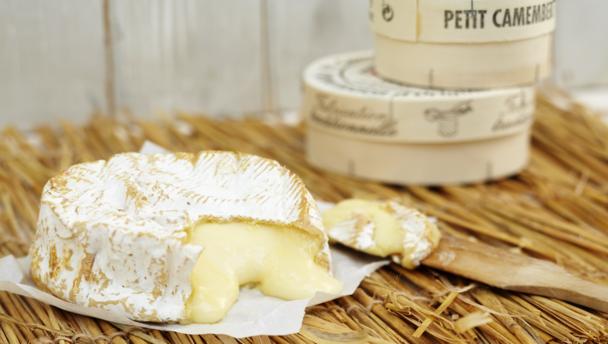 Camembert – This is so simple and delicious!  There are tins you can buy specifically for warming up Camembert in the oven but we just wrap the wooden packaging it comes in with aluminium foil.  To prepare, open up the lid and turn the cheese over (you want the bit on the bottom where the paper peels away from the cheese on the top for easy access when its melted).  Place the lid back on and wrap the whole container with aluminium foil.  Place in a 200 C/ 400 F oven for 20-30 minutes.  Unwrap and check if it's melted (if there's a hard bit right in the middle put it back in for a little longer).  Even if there are some hard bits left they are delicious too so don't stress, it will last longer if it's melted but it will be awesome either way.
Remove the foil and take the lid off.  Place in the centre of a dinner plate and eat it however you'd like.  Go at it with a teaspoon or dip celery sticks, small pieces of meat (salami, cooked chicken, pork, prawns) or anything low-carb friendly that's dippable.  Mitch and I share a Camembert pretty regularly so we plate it up with our dippables around the cheese on the plate and two teaspoons.  Beware, if you're sharing it will turn into a race to the end by the time you're half way through and the heaped teaspoons of cheese are running out fast!
Spider/Ice Cream Float (without the Ice Cream) – I know Diet Pepsi isn't good for me but sometimes it's the quickest way to battle a craving.  I don't drink it every day but we always have some on hand.  This is very similar to the Iced Coffee only much quicker.  It doesn't work as well with cream whipped by hand so use a spray whipped cream (with no sugar) if you can.  Basically you just place ice cubes in a tall glass, fill 3/4′s of the way up with Diet Soft Drink/Soda and fill the glass up to the top (and as high over the top of the glass as you can get it) with whipped cream.  You definitely need a spoon for this one, I use a dessert spoon (yum) and a straw because getting to the actual drink can be tricky with all that yummy cream blocking the way.
Cheese and Meat Platter/ Antipasto – What makes this feel like a treat is that you go to the deli section of the store and pick out each individual item and drool over it a little (not literally hopefully) before indulging in your feast. I like to pick one or two cheese that I know I love and then one or two that are new to me. I choose some salami, some chorizo  and one or two varieties of olives (I love the ones that are stuffed with jalapeno's or garlic, yum!).  They often have artichoke hearts and sun dried tomatoes in the same section so I grab various other little things just to mix it up a bit.  When you get it all home dice up your bits and pieces onto a plate or a platter if you're sharing and enjoy.  If it fits in with your plan and it's not 10am in the morning then a nice glass of wine will top this meal off nicely.  The other great thing about this one is that you can stretch your ingredients out over the next few days and do the whole thing over again.  This is a great option if you're having people over too, it's fine for you to eat and every one else will enjoy it too.
Frozen Yoghurt – It's totally just that.  Low-fat yoghurt that you've put in the freezer for a few hours.  Whilst on Dukan I used this trick a lot.  Since swaying more toward Paleo I've stopped having low-fat yoghurt but if you eat low-fat yoghurt then this little trick might make for a yummy dessert.
Nuts and Seeds - This is a quickie go to for me.  Not all diets allow for this one so ignore if nuts and seeds aren't in your plan.  A small handful of almonds or macadamia nuts with some sunflower seeds have saved me from impending dieting doom many times.  It's not ideal to be eating a lot of nuts on low-carb and it may stall your weight loss but they also won't send you spiraling into a sugar induced binge fest that you can't escape from (been there, done that).  Great fibre content if you're having troubles in that department and extra lettuce just isn't cutting it.